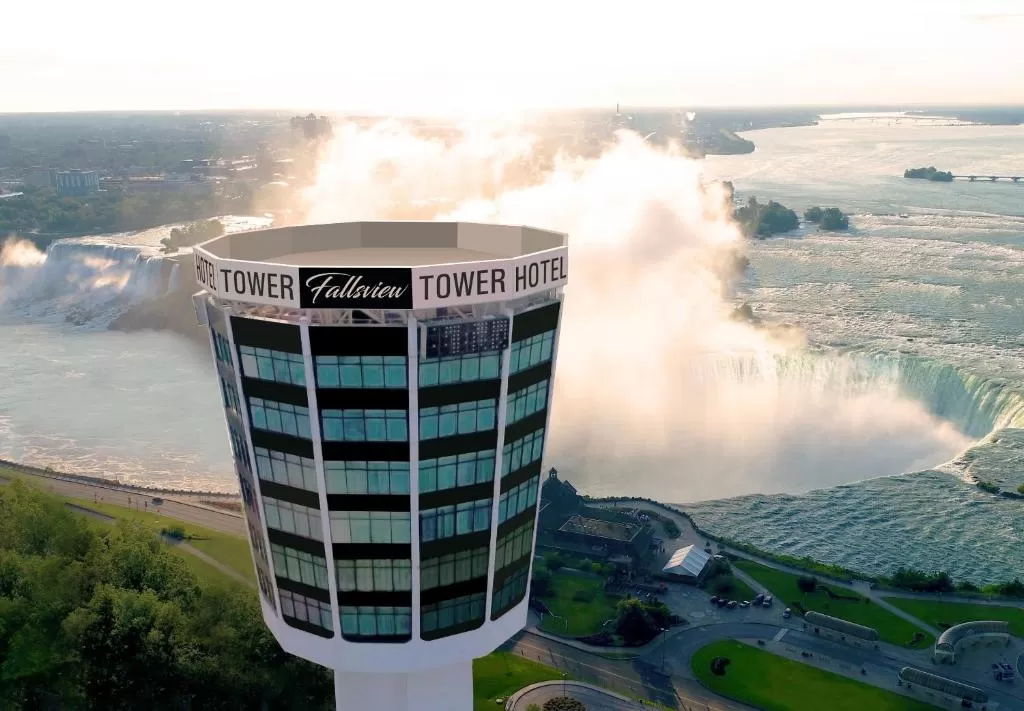 In need of a strong experience escaping from everyday life? Just visit the Tower Hotel and enjoy a unique, spectacular view of Niagara falls, right from the privacy of your room.
1. Where is the Tower Hotel located?
The Tower Hotel is located in Ontario, Canada and is a wonderful glass tower right in Fallsview, in the middle of Niagara Falls.
2. How are the room designed at Tower Hotel?
The Tower Hotel counts on nice rooms with uniquely designed furniture, some of them with direct waterlfalls view. Every moment will be unforgettable, from sunrise to sunset. Not to mention the night lighting and fireworks. Every night the massive falls of Niagara are bathed in all the colors of the rainbow. You and your loved ones will be amazed at your own private viewing of the spectacular Fireworks and the magnificent light show over the famous Niagara Falls. A light show you can enjoy from the comfort of your own Fallsview Room that you cannot really see anywhere else. So, if you plan to visit the Tower Hotel, don't miss out the opportunity to book a water view room, and your private show will begin.
3. How to book the Tower Hotel Niagara at the cheapest price available online?
Obviously with its seductive architecture, the Tower Hotel is an ideal location for celebrating weddings. And let's not forget that same-sex marriages are legally recognized. A Wedding Planner will be able to guide and advise you in the best possible way, following your tastes and expectations, to organize what you want, to make your day of love unforgettable and unique.
Another icing on the cake, to stay on the wedding theme, is the presence of an excellent restaurant located right at the top of the tower, where an exclusive Chef will offer you exquisite courses of meat and fish.
4. What are the other services offered by the Tower Hotel?
Now, let's talk about prices… Booking a room at this fabulous hotel must be quite expensive. Looking at online fares on common booking websites it looks unaccessible. But Locoprice prices are always different. If you want to book this hotel at the best, lowest price available (like if you were a travel agent), you just need to sign up. Again, we suggest you to book the Fallsview Tower King for an immersive, unforgettable experience.
Take a look at the price difference between Locoprice and Booking on specific dates: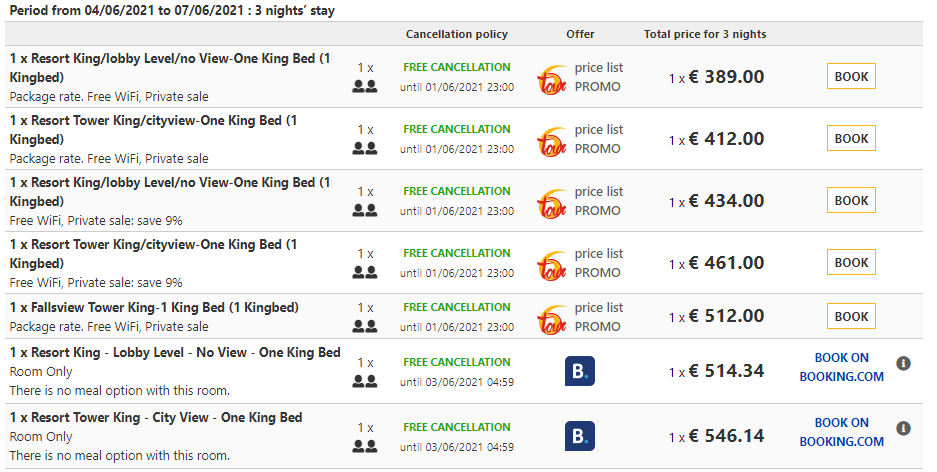 Amazing Pictures of the Tower Hotel, Niagara falls
[fusion_gallery layout="" picture_size="" columns="" column_spacing="" gallery_masonry_grid_ratio="" gallery_masonry_width_double="" hover_type="" lightbox="yes" lightbox_content="" bordersize="" bordercolor="" border_radius="" hide_on_mobile="small-visibility,medium-visibility,large-visibility" class="" id=""][fusion_gallery_image image="https://mluwwqf9ry69.i.optimole.com/w:auto/h:auto/q:mauto/ig:avif/https://www.locoprice.com/wp-content/uploads/2020/12/tower-hotel-Locoprice-Stravacanze-1.jpg" image_id="1287″ link="" linktarget="_self" /][fusion_gallery_image image="https://res.cloudinary.com/locoprice/images/v1607611062/Locoprice/tower-hotel-locoprice-stravacanze-2/tower-hotel-locoprice-stravacanze-2.png" image_id="1289″ link="" linktarget="_self" /][fusion_gallery_image image="https://mluwwqf9ry69.i.optimole.com/w:auto/h:auto/q:mauto/ig:avif/https://www.locoprice.com/wp-content/uploads/2020/12/tower-hotel-locoprice-stravacanze-3.png" image_id="1290″ link="" linktarget="_self" /][fusion_gallery_image image="https://mluwwqf9ry69.i.optimole.com/w:auto/h:auto/q:mauto/ig:avif/https://www.locoprice.com/wp-content/uploads/2020/12/tower-hotel-locoprice-stravacanze-4.png" image_id="1291″ link="" linktarget="_self" /][fusion_gallery_image image="https://mluwwqf9ry69.i.optimole.com/w:auto/h:auto/q:mauto/ig:avif/https://www.locoprice.com/wp-content/uploads/2020/12/tower-hotel-locoprice-stravacanze-5.png" image_id="1292″ link="" linktarget="_self" /][fusion_gallery_image image="https://mluwwqf9ry69.i.optimole.com/w:auto/h:auto/q:mauto/ig:avif/https://www.locoprice.com/wp-content/uploads/2020/12/tower-hotel-locoprice-stravacanze-6.png" image_id="1293″ link="" linktarget="_self" /][fusion_gallery_image image="https://mluwwqf9ry69.i.optimole.com/w:auto/h:auto/q:mauto/ig:avif/https://www.locoprice.com/wp-content/uploads/2020/12/tower-hotel-locoprice-stravacanze-7.png" image_id="1294″ link="" linktarget="_self" /][/fusion_gallery]